Live in French Country Style
By Bat Sheva Vaknin
Parlez-vous Français? Don't worry – you don't need to speak French in order to enjoy the bright, comfortable and classic style of French Country in your home. From weathered walls to wide wooden tables, it is not hard to achieve the French Country look use the following guidelines.
French Country style is all about well-used, worn-in, imperfect but beautiful architectural elements, furniture and accessories. Forget sleek lines, fine china, and black, white and gray color combos. Instead, fill your house with chunky wood tables, dozens of sweet-smelling flowers, and brightly patterned couches, curtains and pillows styled after the look of Provence , the southeast region in France that borders the Mediterranean Sea .
When choosing a French Country style home, think along the lines of cracked wood beams, curved panels, hand-carved decorations and raw material flooring and walls, like stone or exposed brick. Raw or distressed wood also can be used to cultivate a French Country atmosphere, as do uneven plaster walls.
Don't worry about that spider crack in the paint in your kitchen, or the slight discoloration of the paint in your bedroom or living room. In French Country "speak", these imperfections simply add character.
Our Showroom in Heyshott, near Midhurst, West Sussex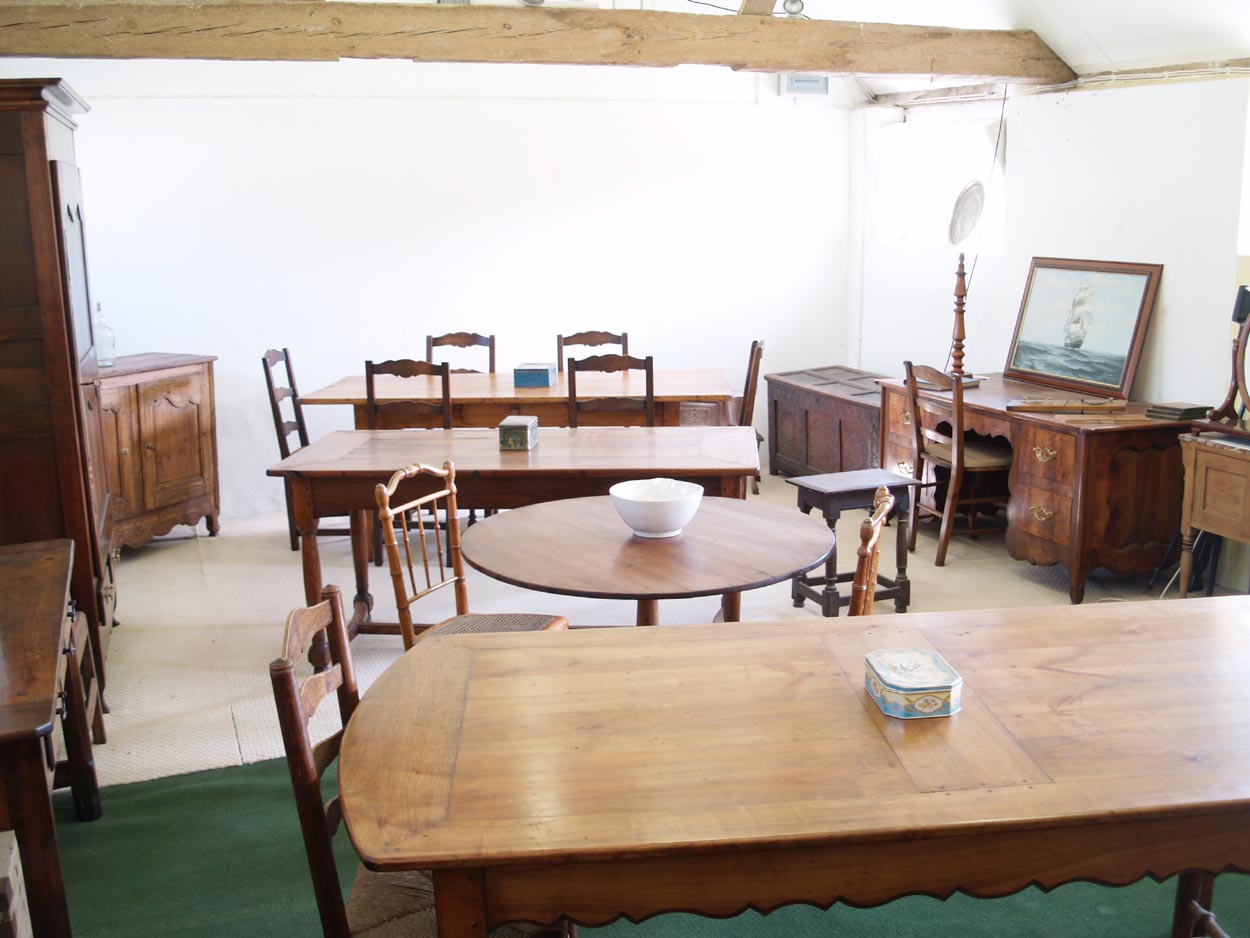 Other French Country architectural features include shutters for your windows, narrow, deeply cut window sills, and striped fabric awnings over windows to afford the home dweller extra protection from the heat.
But what if you just want to add some French Country flair to the home you already have, without changing its walls, floors and windows? No sweat.
Rustic furniture is a key element to the French Country style. Think oversized rectangle or round wooden dining room tables, with a dull waxed or natural finish.
 Chairs and occasional tables of the French Country style can be curved or boast carved designs in the woodwork. Dining room chairs can have a ladderback style or vertical slats. Also,large armoires are well suited to the French Country look, giving the owner a nice cool place to store dishes, linens, or even clothing.
The French style of furniture has changed very little over the years, with the exception of being diminished size wise, so as to accommodate the modern home. The design, along with the lines of the furniture, can differ dramatically from region to region, along with the carving. Normally indigenous timbers were used locally, being the most available material to be utilised by the " charpentier " ( carpenter )  or " ebeniste " ( cabinet maker ), depending on the quality of furniture you wished to attain.
I have taken " STYLES REGIONAUX " as my furniture bible, which was first published in 1981. This set of books have a wonderful set of pictures along with text ( albeit in French ) , which cover all the different regions of France, along with the differing styles of the houses of the period. A truly wonderful publication.
Finally, achieve that French Country style with the perfect fabrics and accessories that have that certain je ne sais quoi. Use toile material, a gauzy linen or cotton, in white, cream or yellow with bright contrasting colors. Choose themes such as monkeys, Chinese patterns, and eighteenth century courting scenes, all of which are predominant in French Country design.
Finder Service
We can find your individual piece for you – if you can't spot it on our website. Just email or telephone through your specification, and we'll get to work.